18 Great Ways to Market a Restaurant without Going Broke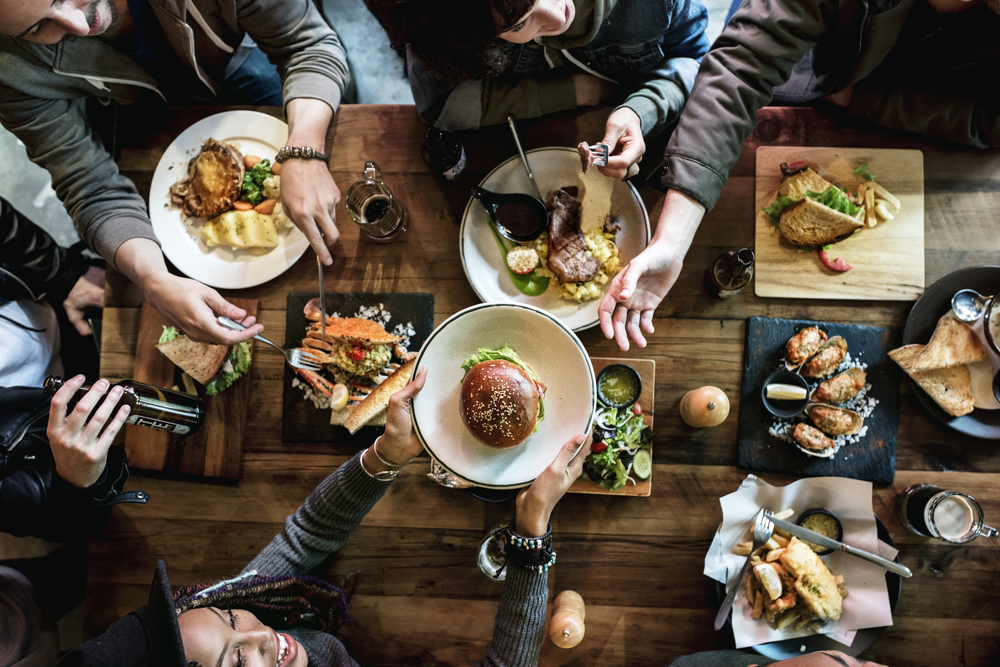 The restaurant business is one of the most competitive around. You really have to be on your toes to stay ahead of the competition while at the same time trying to attract new people to sit in your tables. As such, marketing is critical. Effective marketing will bring new customers in the door. Then it is up to the staff to create a memorable experience that will keep those customers coming back.
Whether you've been in the business for years or you are just starting a new restaurant, you need to focus your marketing on those methods that are achieving the best return at the moment. Those methods evolve with the restaurant scene, so be ready to adjust your marketing strategies as needed. To get you started, 18 great ways to market your restaurant without going broke are listed below.
1. Use Photographs – A Lot of Them
The foodie culture introduced the practice of taking photos of your food just before you indulge. Those photos are then posted to social media sites like Facebook, Twitter, and Instagram. If you are looking for an effective marketing programme that will not cost you a fortune, this is it.
Want to switch to More Than Accountants? You can get an instant quote online by using the form below. In a like for like comparison for services we are up to 70% cheaper than a high street accountant.
Start taking your own photos rather than waiting for customers to do it for you. Work with a professional photographer if you don't have the skill or equipment to do it yourself. Then post your photos all over social media. You might even include a customer review or two.
2. Reward Customer Loyalty
Retaining existing customers is as important to your business as winning new ones. In addition to offering quality food and a memorable dining experience, offer your customers a loyalty programme as well. Such a programme can do a number of things.
First, it will invite your customers to come back for more great food. Second, it will help create a more personal relationship by giving your customers the sense that they are being treated like family. And finally, loyalty programmes encourage your customers to tell others about your restaurant.
Fortunately, there are quite a few mobile apps out there that make it easy to develop an effective loyalty programme. You can go traditional and keep things in-house, but smartphone apps are where it's at for the younger generation.
3. Encourage Customer Reviews
Few industries rely as much on customer reviews as the restaurant industry. If you do not think customers are looking for your restaurant on sites like Yelp, think again. They are. Moreover, some of your customers have undoubtedly reviewed your restaurant already.
From a marketing standpoint, it pays for you to be proactive about online reviews. So set up your own account on Yelp and any other sites you want to be part of. Then encourage your customers to leave reviews. Make sure all the information on your listings is correct. That means the name of the restaurant, hours of operation, location, and so forth.
4. Publish an Online Menu
Putting your menu online is marketing gold that costs very little. Make sure your menu is accurate and includes at least a few photos. You can publish it on your own website, on review sites like Yelp, on your social media sites, and anywhere else you have a digital presence.
5. Take Advantage of Local Searches
As the undisputed king of online searches, taking advantage of every tool Google offers is a smart move. One of those tools is the Google+ account. Google+ is the search engine giant's answer to Facebook. Now, before you moan about having to maintain yet another social media account, consider this: businesses with Google+ get preferential treatment in terms of local listings.
6. Activate Google Alerts
Another great Google tool is their Google Alert service. This service alerts you whenever the name of your business or one of your associated keywords appears online in a new piece of content. This service makes it a lot easier for you to know what people are saying about your restaurant.
7. Make Use of Geo-Targeting
You can pay for ads that target everyone in your town or county, or you can target the kinds of customers most likely to eat at your restaurant. You do the latter by taking advantage of geo-targeting. Google, Facebook, Twitter, and a host of other online platforms all offer geo-targeting. How do they do it? By tracking customer locations using their smartphones. Customers within a few miles of your restaurant are likely to see your ads; those at the other end of the county are not.
8. Embrace the Hashtag
Twitter may be responsible for bringing the hashtag into its own as a way to link similar content, but it seems like everyone is doing it now. Experts encourage the judicious use of hashtags on all social media channels. They particularly endorse it for Facebook, Twitter, and Instagram. You should develop at least one or two hashtags that customers would organically link to your business, plus a handful of others you can use here and there as content warrants.
9. Make Use of a Newsletter
Restaurants are perfect candidates for newsletters for one simple reason: consumers tend to think of dining out as a friendly and social activity. Such activities are open invitations for regular newsletters. Consider publishing a newsletter via e-mail. You can create a special mailing list comprised of people who want to receive the newsletter, then keep them up-to-date on a regular schedule. Whether it is weekly, monthly or whatever, a newsletter keeps your most loyal customers up to speed about everything that is happening with your restaurant.
10. Encourage Customer Engagement
Happy customers are your restaurant's best marketing tool. So encourage their engagement. Invite your customers to take selfies that they can post to their own Facebook pages. Offer to post them on your Facebook page as well as in your restaurant. Invite customers to take photos of their food and write reviews. You might even engage a few of them to write blog posts – provided their writing skills are up to the challenge.
11. Highlight Your Staff
Restaurants that regularly highlight the efforts of individual staff members help to create a more family-like atmosphere. Staff profiles introduce workers to customers on a more personal level, helping those customers more easily engage. One suggestion for highlighting staff is to publish a menu insert once a month. It doesn't have to be anything fancy. A single page including a picture and some text would work just fine.
You can also create an employee of the month award to coincide with the profiles. This will encourage your staff to do a better job which, in turn, will create happier customers.
12. Monitor Your Online Reputation
Your restaurant has an online reputation whether you know it or not. Between social media and review sites, people are talking about your restaurant. You can do your business a big favour by monitoring what people are saying about your restaurant. Use complaints as an opportunity to improve and complements as a way to encourage your staff to keep doing a good job.
13. Make Use of Online Listings
There is a growing volume of online listing sites that act as the internet version of the telephone book. Make use of them. Get the information about your restaurant on as many of the sites as possible, making sure that the information remains up-to-date moving forward. More online listings equal more backlinks to your site and better search engine rankings.
In addition, search your restaurant's name to see what sites already list the business. Note that whatever information you find is the same information restaurant patrons see when they go in search of a place to eat. Make sure that information is both accurate and flattering to your business. Make corrections where necessary.
14. Build Your Brand around Customers
The next tip is one that a lot of restaurants do not quite understand. It is pretty typical for restaurants to come up with a theme and brand first, then try to market both to their audience. That's the reverse of what should be happening. A better way to go is to analyse your target audience first, then build your brand around them. As you build the brand, include it in your social media strategies as well.
15. Consider Delivery Service
The internet age is all about convenience. As such, food delivery is no longer reserved for Chinese take-aways and pizza. Just about any restaurant can do delivery these days. Either bring on delivery staff of your own or team up with one of the new app-based delivery services competing for restaurant business.
Remember that delivery does a couple of things. First, it sells food. People who do not like to eat out will still patronise your restaurant if you are willing to take the food to them. Second, delivery will expose your restaurant to customers who may eventually decide to stop in and sit down for a meal later on.
16. Offer Special Deals
Restaurants have been doing daily specials for as long as most of us can remember. That's great. But take your restaurant to the next level by offering other kinds of deals. You could issue online coupon codes redeemable for a free beverage or meal, for example. You could do a limited time 'kids eat for free' deal. There's no need to go overboard, but an occasional deal will keep customers coming in.
17. Utilise Online Reservations
Assuming your restaurant takes reservations, you should definitely be using an online reservation tool. You might be able to set one up directly on your website through your hosting provider. If not, there are third-party services that handle reservations the same way delivery companies handle delivery.
18. Get Out into the Community
Getting outside the four walls of your restaurant and into the community could be a huge boost for your business. Thankfully, there is lots of ways to get out there. Does your town have a food festival every year? Then sign up to be a vendor. You will have an entire weekend – or longer in some cases – to get your food into the hands and mouths of hundreds of potential customers.
You can also set up shop at music festivals, art shows, and just about any kind of gathering where vendors are solicited. You can also sponsor a local sports club or football team. If you are really up for a challenge, consider extending the reach of your restaurant by starting a food truck.
Marketing your restaurant is a matter of creativity, ingenuity, and a little bit of know-how. Utilise the suggestions found in this article and you should see your marketing efforts start to pay off. That's what you need in the competitive world of restaurants.