Why 8% of Sales People Get 80% of the Sales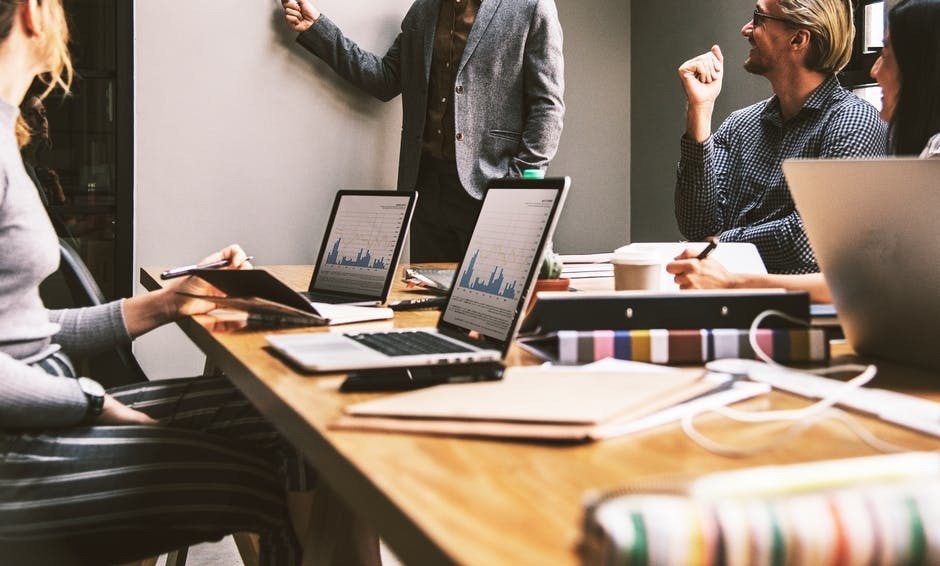 As a online accountantancy company, we had to dig into this one. Understanding and studying consumer behavior can eventually convert to sales. However, most salespersons cannot convert sales, only just a few can. You scratch your head and ask yourself why. This is because there is an idea that ONLY 8% of sales people get 80% of the sales. Written in this article are the reasons why this is true, mistakes you should prevent to commit, and things you can do to make it in that 8% bracket.
Manner of Presenting Products
Making sales starts with the presentation of your product to your potential buyer. Basically, doing presentation is giving information to the prospect. First impressions are important in this aspect. Establishing a great impression also builds trust and rapport with your prospects. Through these so-called 'presentations', target prospects are building their decision whether to purchase or not.
However, also during these presentations, prospects can also judge or misjudge the product. That is why it is important to conduct the proper presentation for your product. The first mistake most salesperson makes is doing their presentations wrong by having no clear strategy of how to present their product. Starting with a mistake can make your client stray away from you, and this can mean no sales conversion.
Want to switch to More Than Accountants? You can get an instant quote online by using the form below. In a like for like comparison for services we are up to 70% cheaper than a high street accountant.
"How you present yourself is how people first view you and what you can showcase."
How you present the company and how you convert sales is a definition of a great salesperson. Furthermore, a great salesperson knows everything about their products. Things that make their products unique compared to the other competition creates an advantage.
Know your market well. Ask them what they need. Convert that 'need' to a sale by doing your presentations right. Give out information about your product that will help them move forward.
Way of Captivating the Target Market
Now that your presentation is already done, the next progression is to captivate the prospects. In the presentation phase, that is your time to talk and the time of the customers to listen. However, in the captivating phase, this is the time for you to listen to the customers instead.
Know your prospects. Listen to what they need. No one will buy your product unless they need it. Ask the right questions. Questions you might think is unimportant to your costumers, perhaps is important to them and vice versa. According to statistics, 86% of the buyers want to ask questions in-person before buying.
A salesperson with a good interpersonal skill can attract more prospects, persuade them, and potentially convert sales than those who don't. If they ask a question, answer it immediately. This could ultimately cost you the sale.
Level of Trust
Trust is very important in any relationships. In this case, the buyer-seller relationship. Another mistake that salespersons commit is not creating trust between them and their customers. In rare cases, they also lie about their products or hide something from the customers just to convert sales. This is why ONLY 19% of customers trust a salesperson. What you should do instead is to make that product flaw to an advantage (our clients trust our services for businesses we help with accountancy and our online accountacy bookkeeping services and more).
ONLY 19% customers trust a salesperson.
Majority of prospects buy only once a level of trust is reached. Your job as a salesperson is to build that trust. Build this trust by being open, being honest, and doing these tips.
Experience, Seniority and Reputation
Most of the time, widely-known brands (e.g. Google) already have a monopoly on their niche. Their experience makes it easier for them to manipulate the market. This is one of the reasons for new brands in the same niche to have difficulty in competing. Therefore, it is important for you to formulate an excellent strategy to overcome that difficulty and try to survive even in smaller markets. Start slow. Gain momentum. Spring your way to the top.
Brands like Google overcame their competition (Yahoo!) and now has the largest share among the search engines (with some sources saying up to 92% of the shares!).
If you are a new salesperson and planning to tackle a crowded market. It is time to build your reputation like on how you built your trust with your customers. Brands like Coca-Cola didn't just spend a short amount of time to make sales like they do today. They built it from the ground up, from square one.
A great salesperson can improve the company's reputation, build trust and rapport, help create a high opinion from the customers, and eventually can lead to sales.
Top-Of-The-Mind Awareness Theory
Top-of-the-mind awareness (a.k.a. TOMA) is an integral part of marketing and consumer behavior. This measures how consumers rank brands on their minds. These are the brands that are the 'most remembered' or the 'most recalled'. Given for example, when I say video streaming websites, first I can think of are YouTube and Netflix. Another example is when I say brands of smartphones, first I can think off are Apple and Samsung. Additionally, brand awareness is consequently important.
Persistence to Follow Up
According to statistics from, most consumers gives five NO's before saying their YES's. Yes, you read that right – FIVE! Also, according to statistics, 80% of prospects buy after the 5th time the salesperson asked. This is what we call the FIVE NO's STRATEGY. Therefore, following up is very important, I could not stress that enough.
Here are some interesting facts:
44% of sales people give up after one "no".
22% give up after two "nos".
14% give up after three "nos".
12% give up after four "nos".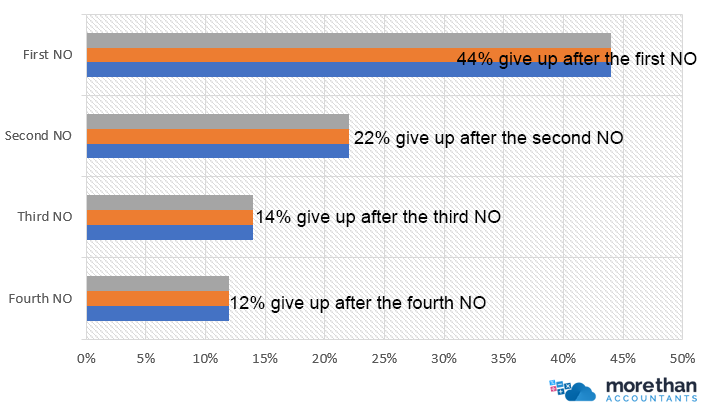 92% of salespersons give up after the 4th no, and ONLY 8% ask for the 5th time! Additionally, if 80% of prospects buy after being asked for the 5th time, imagine you still asked, this can result in a sale.
However, according to 61% of the buyers, they don't like pushy salespersons. Don't spam your prospects with emails or phone calls. Perhaps you can follow up every 48 hours after the first contact.
Now that you understand why only a few get majority of the sales. Why and how some commit mistakes. Never give up, everyone makes mistakes. However, through the tips within this article, you can now succeed, and get the sales you wanted.