Outlook for the Sharing Economy 2019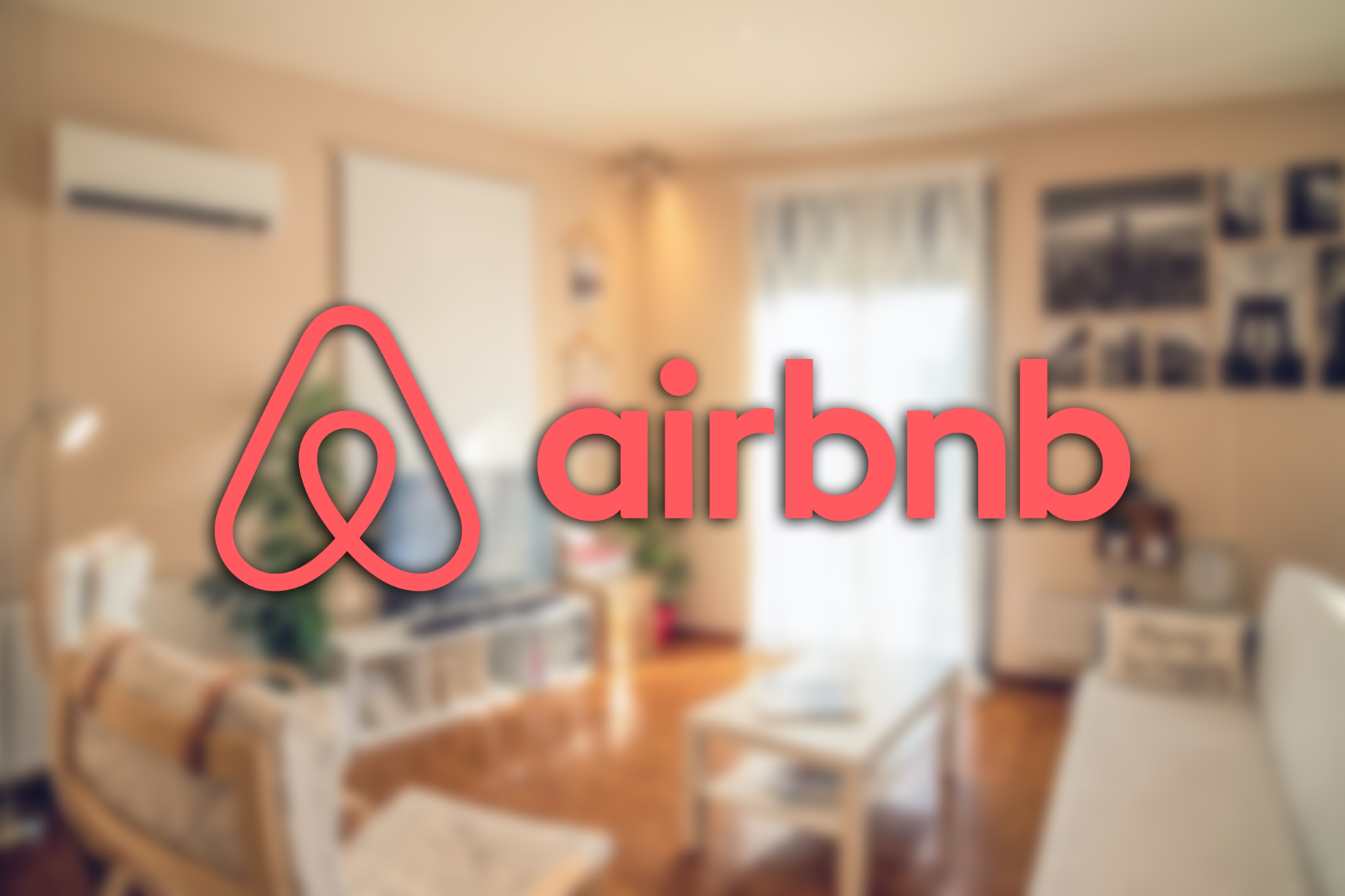 What is Sharing Economy?
Sharing economy emerged during the Great Recession of 2008 where house prices fell by around 32 percent. (Amadeo, 2018). Sharing economy uses peoples' underutilized assets and rewards them through monetary means. The concept does not focus on ownership but rather on the sharing of assets and resources. Hence, its name. Airbnb, a prime example of sharing platform, allows its users to rent their underutilized properties and make money off it.
State of Sharing Economy in 2019
As we are living in the digital age, more and more people are connected to the internet via their smartphones. Statistics reveal that there will be 2.82 billion people with smartphones across the globe. (Statista.com) Due to this rise of digital platforms and the proliferation of smartphones, revenues coming from sharing economy platforms are only expected to increase. It is estimated to grow to a $335 billion industry in 2025, compared to its $14 billion value in 2014. (PwC UK)
Trust is the main currency of sharing economy. According to an expert, in order to succeed using sharing economy, it is important to gain the trusts of consumers. Likewise, the supplier should also be able to trust its consumers to make the transaction successful.
Want to switch to More Than Accountants? You can get an instant quote online by using the form below. In a like for like comparison for services we are up to 70% cheaper than a high street accountant.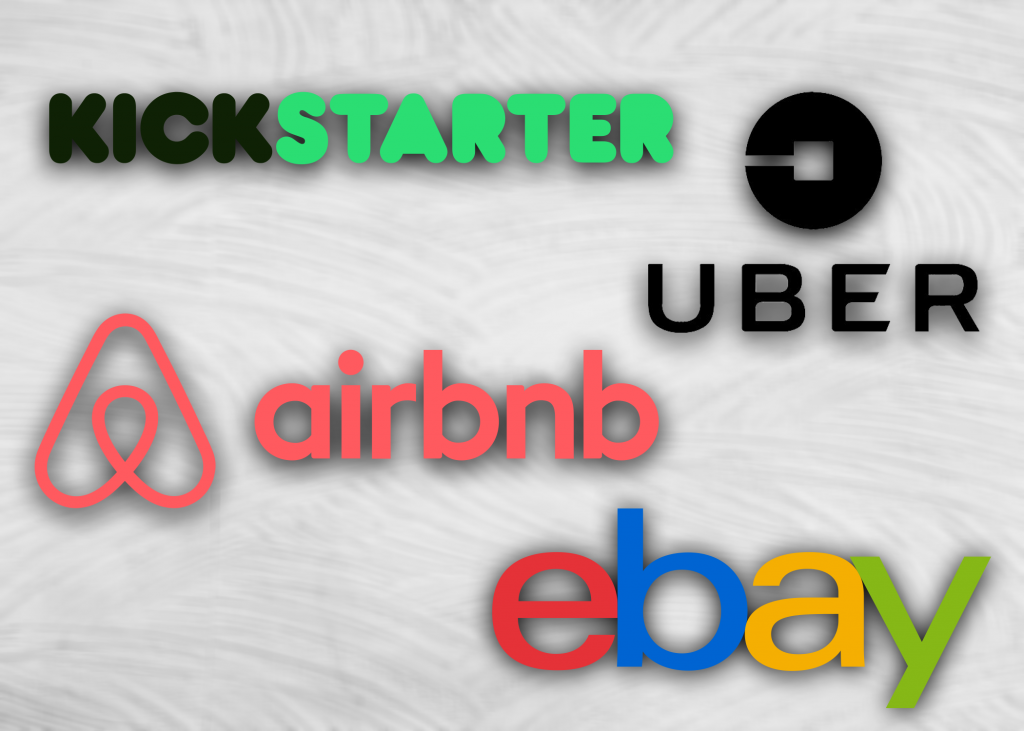 Major Companies in Sharing Economy
Airbnb is the most popular home-sharing platform founded by Brian Chesky and Joe Gebbia in 2008 with an estimated company value at $38 billion dollars.
Uber is a popular peer-to-peer ride sharing platform founded in 2009. They also offers food delivery and bicycle sharing. It has an estimated $11.3 billion dollars in revenues in 2018.
eBay a widely used as a buy-and-sell platform was founded in 1995 by Pierre Omidyar. It has an estimated revenue of around $11 billion dollars in 2018.
Kickstarter is a crowdfunding platform that focuses on helping small companies in "bringing creative projects to life".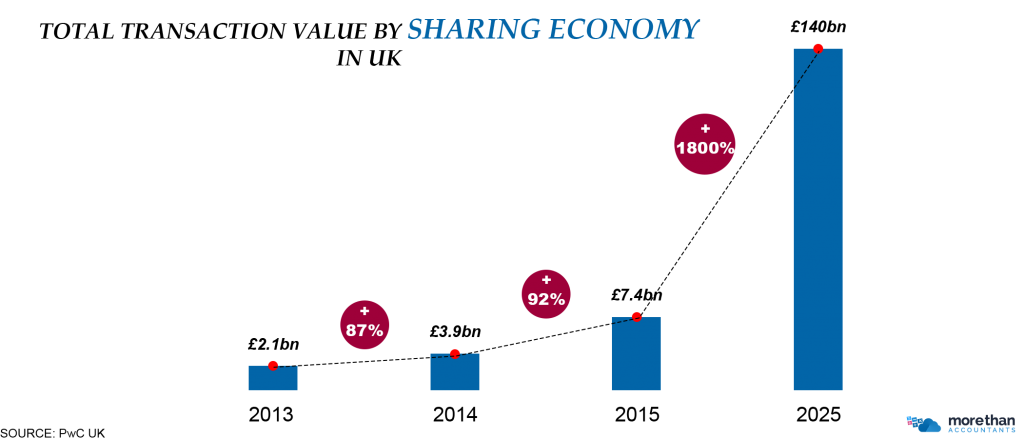 UK as a Sharing Economy Hub
The initiatives of the UK government in 2014 promoted the country as "best place in the world to start, invest in, and grow a business, including through a package of measures to help unlock the potential of the sharing economy." Since then, the UK's sharing economy has been the fastest growing in Europe since 2015. Transaction values doubled in 2015 (from £3.9 billion in 2014 to £7.4 billion in 2015). Experts expect UK's sharing economy to grow to an estimated £140 billion in 2025. Similarly, other European countries should also expect rise in their sharing economy.
Ride-sharing platforms (such as Uber and Zipcar) top in terms of revenue, garnering 38% share of the market. Followed by peer-to-peer accommodation platforms such as Airbnb and Onefinestay with 27% share of the market.
An Outlook for the Sharing Economy
According to studies conducted by the Warwick Business School, sharing economy platform users grew by 60% in just 18 months between January 2016 to July 2017 in the UK. This increase is the result of phenomenal rise of sharing platforms in the UK.
In the same study, 78% of people aged between 18 to 24 years old have already used sharing platforms at least once before. Evidently, this proves that millennials are the driving force of UK's sharing economy.
Looking forward, we can see a future where resources are shared such as cars, bicycles, spare bedrooms, foods and clothes among others. This can result in a more efficient use of resources and can limit shortages of supplies.
People also use sharing platforms to save money and has been a lifestyle to some using them more than once a month. According to the same study by the Warwick Business School, 84% of people who earn less than £40,000 annually has been using sharing platforms to save money.
Sharing platforms are leaders of innovations embracing new ideas. Aside from trust, innovation is also important. The ever-changing industry is forcing companies to rethink their business models and how they operate.
Is Sharing Economy still about sharing?
According to Harvard Business Review, sharing economy is not "sharing" economy at all but rather an access economy. They argued that sharing is a form of social exchange between persons without any profit. Moreover, a transaction between a company and a consumer who don't know each other is no longer sharing at all.
Conclusion
As we are progressing in the digital age, with the proliferation of smartphones and the internet, sharing platforms will only continue to exist. Additionally, property ownership will also continue to decrease, as property sharing will be more prominent. Younger people will have access to these sharing services.
Sharing is caring. Underutilized resources should be shared rather than to be kept hidden or unused. This can promote peer-to-peer sharing and will have massive impact on our environment. Not only it does it help individuals save money but also help reduce waste in general.
Living with less. Additionally, sharing economy promotes living with less. As sharing platforms increase in number, inversely prices drop. People will rather rent than to own.
Learning about sharing economy is important as it is projected to be a major player in the global economy.